Car outside my house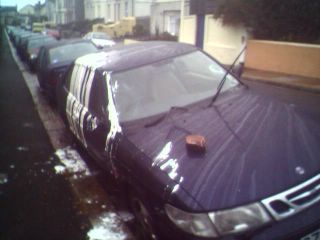 This is the car outside of my house this morning. I hasten to add it's not my car, thank god. But someone, looks like they have seriously pissed someone off. Theres paint all over it, the tires are slashed, the wing mirrors are broken, they front windsheild is busted, by the brick thats on the bonnet, the wipers are not going to wipe for a while. I considered calling the police, but I guess if the owner see's it they will be doing that or going after someone with a baseball bat.
The good bit of news is that not only did I take the picture with my new mobile phone, but that I emailed it to myself as well via the phone, now the only thing I have to work out, is will there be an extra charge for the email on my bill, before I get all enthusiastic! Maybe I better just bring my cable to work and upload the pictures that way, but its just not so techie and exciting is it?